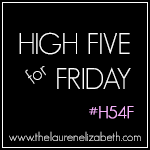 It's already Friday?!  As quick as this week went by, a lot did go on… we had some guests visit from VT, we attended a fancy 'Gala', and I hit the gym 3 (4 if you count today when I go again at lunch!) times… and it's only Friday morning!
What a better way to recap such a busy week than with High Five for Friday!
1. Vermonters visit Boston
Tuesday night, Grammy and her good friend Mina (aka Mika, as Avery calls her) came for a visit.  Although their first day in town they were rained out at a Red Sox game, they still seemed to enjoy their time visiting the city (Mina's first time!)

They experienced true city traffic: rain + red sox game = bumper to bumper!  They walked the Freedom Trail, saw Fanieul Hall and Quincy Market – and they even had lunch at 'Cheers'.
2. Lunch Runs
Another day at work = another lunch run!  All packed and ready to run out at noon!
This week I have run 3.5 miles (soon to be 4.75) and it's not even the weekend yet (which is when I get in most my workouts).  Loving this gym at work thing… pretty awesome. I'm becoming quite the pro at dressing and showering quickly.  My only gripe is that I'm still all red from the shower and workout, so applying makeup after is annoying and pointless (#whitepeopleproblems).  Oh well, I don't have anyone to impress at work!  Well, not physically.
3. Avery Played Hookey
Wednesday Avery spent the day outside with Grammy (who Avery now calls 'Me-Me') and 'Mika'.  From all the pictures they sent, it looks like they had a fun time!

They went swimming in the pool, played in the sandbox, visited the park and Dunkin for breakfast.  They even hung out with him all night… so we could get all dressed up and go to a Gala!
4. Company Gala
The company I've been with since 2008, is celebrating 50 years – and the occasion was marked with a Gala.  We got all dressed up, headed into the city, mingled, drank, and ate for 3 hours with hundreds of coworkers and their spouses.
Our name in lights (literally!):
All dressed up:
And since Erin (my workout buddy) is my coworkers, wife, she was there too!  Aren't we smokin' ?!
5. My New Ride
I wish!  When we were leaving the Gala, Erin snagged this pic.  Dreamin!  Although we did have a serious conversation about how although it would be $500/mo to own that car, we probably pay that much in gas and current car payments… so we could get one…. riiiiight!
Such a busy week… and a sunny weekend ahead… Happy Friday!!!
Have you been to a Gala or fancy event before?  I was so stressed about what to wear, but thanks to my Sis, she lent me that dress and I got lots of compliments